Description
Description
Novexiz® Zingiber Officinale Extract helps to maintain healthy GI flora and support healthy digestion. Gingerol, gingerdiones helps to relieve nausea, morning sickness, motion sickness, stomach cramp, dizziness, stomach upset and vomiting after surgery. Ginger also relieve dyspepsia, colic, digestive disturbance including flatulence, spasms and promote GI comfort. Ginger is enriched with nutrients and phytoconstituents that may benefit your body & brain. It contains number of bioactive compounds that may promotes healthy cardiovascular function and boost immunity. It also stimulates liver function, inhibits inflammation and relieves pain of arthritis.
Key Ingredients
Zingiber officinale Rhizome Extract 
Gingerols and gingerdiones are the main bioactive components in ginger. It is very helpful for digestion, nauseam motion sickness, vomiting, and is known to have antioxidant and anti-inflammatory effects. Ginger also contains B vitamis riboflavin, thiamine and niacin, vitamin C, minerals like phosphorous, calcium, iron, carotene, fibre, protein and carbohydrates.
Piper nigrum Seed Extract 
Its active component piperine enhances absorption of herbs, modifies drug metabolism and improves bioavailability.
Glycyrrhiza glabra Root Extract
Glycyrrhiza glabra or Licorice root can be one of advantageous sources of probiotic substances, including fructans. Licorice root extract has a sufficient fructan level to provide good resistance of probiotic bacteria to acidity/alkalinity gradient.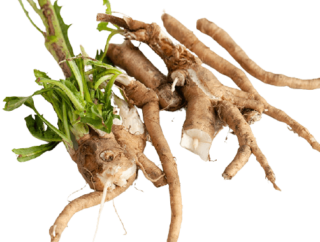 Cichorium intybus Root Extract
Cichorium intybus root extract has one of the major component Inulin. It is a type of soluble fiber found in many plants. Inulin is a fructans used as prebiotic, meaning that it feeds the good bacteria in the gut.